Air Cooled Scroll Chillers
Air Cooled Scroll Chillers:
Drycool Systems is having an expert team of professionals for the company who is having the capability of exporting and manufacturing a large range of air cooled scroll chillers. These kinds of chillers are mostly used in residential complexes, commercial and industrial buildings. It is mostly used for controlling the humidity from the environment by ventilating the heat. Being the best chiller manufacturer in India, a team of veteran professionals uses high-quality raw materials by following guidelines and non which is being confirmed by the industry.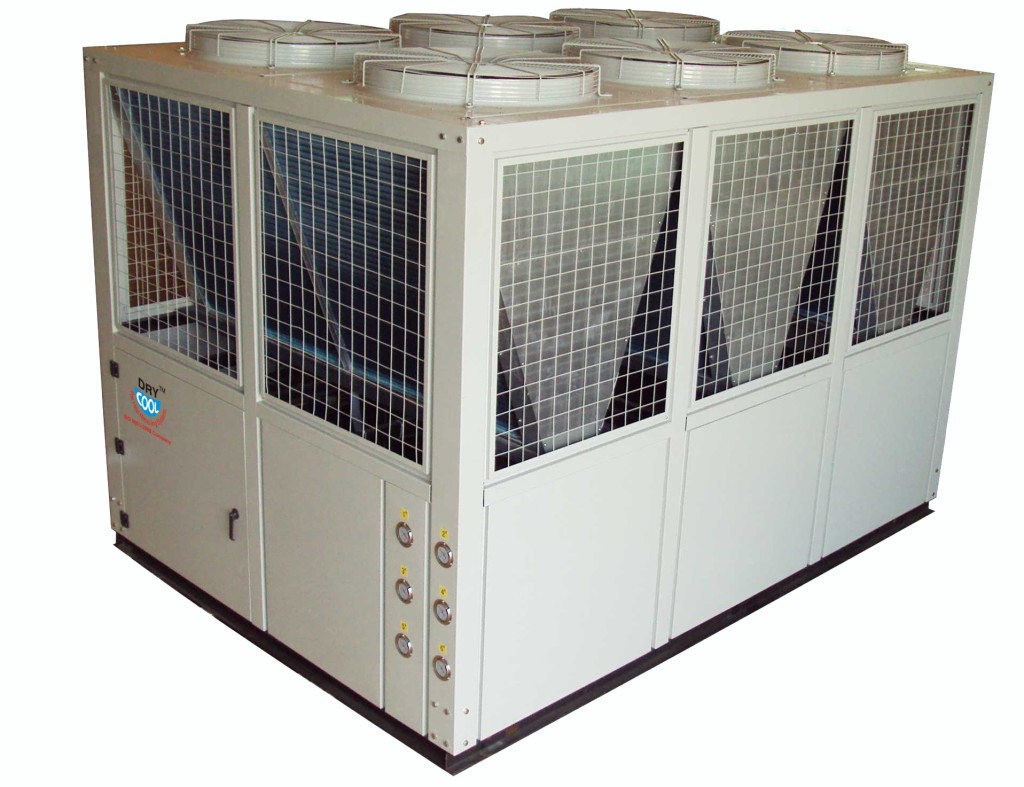 We will fully manufacture and design energy-efficient chillers in India. Every product is completely well-designed and will perform perfectly in extreme weather conditions, which is why it is considered the best chiller in India. We are using European-origin compressors which are being used in the chillers. Our experienced team of engineers will ensure reliability in the performance while working with our equipment. Drycool Systems is the customized chiller supplier and we offer the operation friendly, easy to install, and cost-effective.
We offer customized chillers for air cooled chillers which is having both single compressor configurations along with multiple compressor configurations. The compressor installed in the air cooled chiller is having support for separate and individual refrigeration circuits. This is the main reason it makes the equipment easy to service, and it gives the best under maintenance module support. All the compact equipment installed in the air cooled chiller includes a fluid pump and storage tank.
Prominent Features of Drycool System's Air Cooled Scroll Chiller:
Various features are integrated into The Air Cooled Scroll Chiller which we have listed below.
It is having the integration of a fan cooling type condenser which will work effectively with hard water.
The construction is completely rustproof and studies which will ensure you the long life for the equipment.
It is also has installed a high-quality compressor.
The product is completely forgotten and will offer a corrosion-resistant metal body to have a better condition in extreme tropical weather.
The total cost of ownership will be reduced give to our cost-effective productivity even by maintaining the international industrial standard.
Our product will be having various mechanical configurations which will ensure the requirement of the application. We will be offering customized chillers according to the requirement of the industry.
We will offer a low sound level for every air cooled scroll chiller.
Our product will offer high-quality performance along with a reasonable price with low maintenance support.
Specifications of Drycool System's Air Cooled Scroll Chillers:
These are the products specifications offered by Drycool Systems which we have listed below.
The major critical components of the unit include LP/HP switch, expansion valve, dryer, etc. Every component is installed by maintaining the International standard.
An air-cooled chiller is having a wide range of capacities starting from 1TR to 120TR along with the temperature of brine and water from (+) 20⁰C to (-) 5⁰C.
It ensures high-quality product which is maintained by stage-wise inspection along with testing before dispatching the equipment.
Our company is having the policy of continuous product improvement which is why we reserve the right to modify our equipment without notice.
Every year cooled chiller will be having a 12-month guarantee which is also backed by efficient customer support.
The cooling capacity of the Year full scroll chiller will be ranging from 7⁰C evaporating and 55⁰C in condensing temperature.
All the major parts of the Year cooled chillers are manufactured and designed in our facilities.
It is guaranteed of 10% increase in the cooling capacity by selecting a water-cooled condenser.
The control panel is having integration with PLC.
The flow rate is having working out with consideration of 5 degree celsius temperature difference.
The required power for using the air cooled chiller is 415V 3 Phase 50 Hz.
Advantages of Drycool System's Air Cooled Scroll Chiller:
These are the major advantages which are offered by the Air Cooled Scroll Chillers.
Get energy-efficient and reliable compressors.
Have separate refrigeration circuits along with every compressor.
All the refrigerants are completely environmentally friendly.
Having the installed test tube evaporators.
Electronic expansion valves are completely accurate for controlling the temperature.
It is also having an automatic system which is much easier to operate.