Ammonia chillers
we are ammonia chiller manufacturer in India, Drycool Systems ammonia milk chillers is one of the most compact chilling plants and skid mounted which is used for a white temperature range from low to medium temperature process cooling applications. This Ammonia chiller is used for milk storage. It is mostly used in various industries which include food processing, pharmaceutical, cold storage, chemical, dairy, industrial gases, ice making, etc. They are also used in various medium temperature applications which include concrete cooling, plastics, HVAC, etc. Buy Ammonia chiller in a very reasonable price.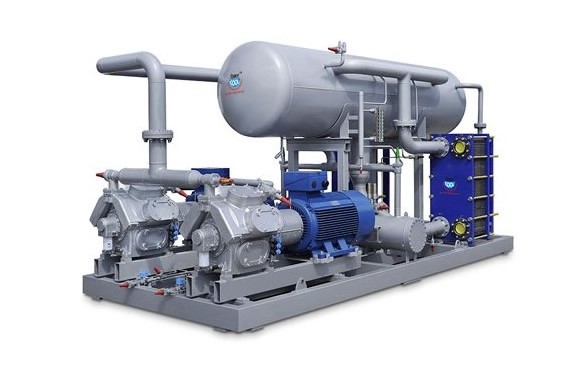 About Ammonia chillers:
We are offering the best Ammonia chiller for milk storage which includes various functionalities and advancements in the technological field. Industrial chillers are supplied with cold glycol, chilled water, or brine which will have a greenhouse gas footprint and also increase the cost of ownership. It can be easy with reduced by the use of ammonia refrigerant instead of various other HFCs. As it does not contribute to ozone depletion not affect global warming. we are manufacturer of Ammonia chiller in India and we supply in All over India & World.
It is the best option to choose the ammonia dealers in generally more energy-efficient than any other chiller. Packet dealers are using ammonia refrigerants which are available in every supply of the equipment. Milk chiller will have the proper production of the standardized manufacturing industries. It is also considered as one of the best alternatives for all the conventional HFC chillers basically for the application on the industrial level.
Ammonia chillers will have more standardization in all the city regulations, housing details, equipment, simplified operation, Low equipment cost, and low maintenance procedures. It is much recommended to use natural refrigerant ammonia-based chillers to have better application industries and any other areas of expertise.
Prominent Features of Drycool System's Ammonia Chiller:
Various features are integrated into the ammonia chiller which we have listed below.
It is a highly reliable reciprocating and screw compressor that comes from the US, Europe, and Japan. 
It is useful for operating for the widest range of temperatures from (+) 30⁰C to (-) 40⁰C.
It is equipped with various natural refrigerants like NH3 along with zero GWP and zero ODP. This ensures the highest energy efficiency with every piece of equipment.
It is also customized as per sensitive and extreme environmental conditions. Everything is properly inspected and certified under the factory's standards.
High energy efficiency.
Solution energy-saving equipment.
Superior reliability.
Long equipment life.
Adaptive frequency drive option available.
Clean energy and intelligent management.
Highly durable design with the best class cop.
Efficient lubrication even during the power failure.
Easy interface with BMS through protocols.
Ozone friendly refrigerant HFC407c & HFC134a.
The complete body is made out of galvanized steel.
Polyurethane paint and powder coated.
Every piece of equipment is properly tested and assembled in the factory with the option for Recommission and dismantling at the site. It can be very helpful in case the equipment is large while installing on the installation site.
Flood evaporators are properly tested and made to factory standards. Every piece of equipment is made by following the highest international standards of manufacturing to ensure the best possible functionalities.
Our equipment is also having a high fouling factor it is having a large condensing area. It is also equipped with a high flow design along with extra tube thickness. Increase the energy efficiency and also have higher operational reliability with easy maintenance.
Step less and step capacity control can be ranging from 25 % to 100%. It is having adaptive functionality which can vary on the process of the loads.
It is equipped with an advanced microprocessor-based controller.
World-class safety controllers for compressors and equipment.
Water flow switches and antifreeze safety.
Completely functionally tested.
Custom-built machine inquiries are also being entertained due to specific requirements of the client.
Site support along with AMC options for the entire life of the equipment.
Get extended warranty options which are available for up to 10 years.
Equipment is having customized turnkey cooling solutions integrated properly.
A fully automatic PLC-based unit is added for data login and remote operation facilities.
Advantages of Drycool System's Ammonia Chiller:
Ammonia is around 3 to 10% more efficient than other refrigerants. So basically, the ammonia chiller will require less electricity consumption which will also increase the production with lower operating costs.
The ammonia-based refrigeration system will also cost around 10 to 20% less to build compared to other chillers. The low cost is mostly due to the installment of narrow diameter piping that can be used which is not possible in other kinds of chillers.
Ammonia is less expensive compared to other refrigerants which is one of the major reasons for the low cost.
Most importantly ammonia is much safer for the environment, as it is having a 0 rating on ozone depletion potential (ODP) and also a 0 rating on global warming potential (GWP).