Chiller for Extrusion Lines
We manufacture chillers for extrusion plant, we supply best quality of chillers for extruder plant in a reasonable price.
Chiller for Extrusion Lines:
Every plastic extrusion process in the industry needs to have proper chilled water and make them function properly. Drycool System is the best manufacturer in India, and we will be offering the high-end Chiller for Extrusion Lines. We are one of the best companies to be the brand of most dependable among industries for a proper cooling system.
Every chiller for extrusion lines will be highly efficient to work properly even in extreme tropical conditions. Every chiller is being manufactured by following the international standard to maintain reliability among the clients. Chiller for extrusion lines is available in water-cooled variant in both screw and scroll compressor system.
Our range of products will offer an ultra-compact cooling unique design made by our skilled and expert engineers. The chiller for extrusion lines is mainly focusing on reducing the cooling time for proper usage of my pen profile lines integrated into the equipment. Get complete flexibility while using the this chiller along with individual control for the temperature.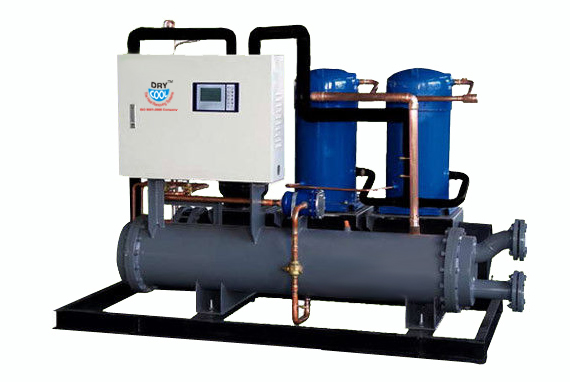 All the integrated cooling paths will be connected with the individual control for temperature management in the this chiller. There has been functionality of detail synchronization which will easily allow storage and search for the best bath temperature required for the industry. This enables the proper optimization to get the high-quality product with the requirement for low cooling time.
If you are looking for the perfect size of the chiller which will be perfect for the plastic process cooling application then you can always get connected to our expert. We encourage every client to get connected with us before getting any of our equipment to have a better understanding of industrial use. You can also go for the customized version of any of the chillers to have a better outcome.
Major Advantages of Chiller for Extrusion Lines:
Get highly synchronized proper temperature control with every chiller for extrusion lines.
With every equipment get highly increased productivity with the reduced cooling time for any industry.
Easily set up the complete required temperature for the one time and it will perfectly repeat itself with every line of industry.
Get a highly integrated automatic cooling procedure that will have higher energy savings.
Get a completely advanced web monitoring interface for proper control of the functionality is with this chiller.
The cooling capacity of this chiller will be having the proper range between 8 kW to 100 kW. Easily select any required cooling capacity between 2.5 tons to 30 tons.
It is also having the heating power for every chiller for extrusion lines ranging between 6 kW to 24 kW. The product will enable you to have proper energy savings capabilities for your industry with continuous usage.
Get the complete wide temperature range with properly installed compressors with the temperature range between 5 degrees Celsius to 90 degrees Celsius. This will enable you to have a high range of cooling systems in your industry even if the environment is extreme enough for the proper chilling procedure.